December 16th, 2009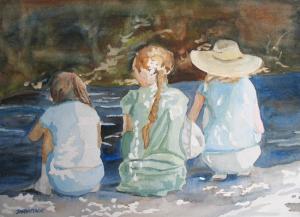 This painting is a Christmas present for my father. He took the photo a couple of years ago while I was visiting him in New Mexico. He, my daughters, my niece, and I all went to Bandieler National Monument. It was just as hot and dry as you might expect summer in New Mexico to be. When we had finished touring the ruins, Dad snapped this photo of the girls cooling off by the brook. I liked the dappled light, and I know he will like the subject--- all three granddaughters at once.
May 19th, 2009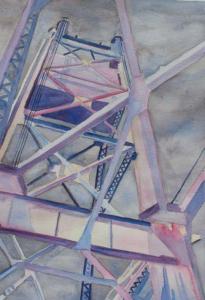 I just can't get this one right. I've posted another attempt here: http://dancingfeatherstudio.com/blog/2009/05/12/the-drawbridge-again/ And here: http://dancingfeatherstudio.com/blog/2009/04/22/anatomy-of-a-disasater-ii/.

I also can't get the picture to load--changed the name and up it came. I guess FAA doesn't like punctuation. ;)
May 17th, 2009
Elizabeth Edward just published my interview on First Angel and Friends. I'm very pleased with it. Thank you so much Elizabeth.
May 12th, 2009
I took the working photos for this one on a cold wet winter day on Seal Rock Beach just south of Newport, Oregon. At low tide it's a fantastic place for poking in tide pools. At high tide it's a wave watcher's heaven.

This is the fourth watercolor I've done on canvas. Watercolor is a whole different animal on canvas. It even sounds different, like painting on a drum.

Canvas is just a hair smoother than cold-pressed paper, but the texture is very different. Cotton has a grain whereas paper does not. Greater detail is possible on cotton than on cold-pressed paper. But that's just the beginning.

Canvas absorbs more water, so it takes much longer to dry; and drying is crucial because unless a wash is bone dry it will lift from canvas in a heart beat. In fact it's extremely easy to lift watercolor from canvas. All but the most staining pigments will wipe back to white with one swipe of the sponge. It's great for correcting mistakes but lifting just a little color for highlight is next to impossible. Mask will also lift paint back to white making it easy to add white details.

On the other hand, canvas accepts much thicker darker paint without getting muddy and dead looking. I'm coming to the conclusion that this last is the primary advantage of canvas for me. And that is why I painted this particular painting on canvas. I wanted to make the dark rocks just as dark and cold as they really were without worrying about dead chalky looking paint.

Since it is framed without glass the last step in a watercolor on canvas is to spray it with a clear protective finish. I use a matte finish. I don't want shine.

(Excerpt from my blog as jennyarmitage.com/blog)
May 9th, 2009
Skipping stones is like testing an echo, faced with a smooth body of water and rocks at hand, all right minded people want to do it. This is my husband and girls skipping stones into the Williamettee River. Georgia learned to do two or three skips that day and Paula found some fresh water shells.

Because the painting is really all about basic body shapes and afternoon sun I began it painting by pouring. I wanted bodies washed in color. But I did so much direct painting afterwords that it hardly feels like a poured painting to me. Whatever I did, it wouldn't come right and I almost gave up on it. I finally decided that for design purposes I should have made Stephen's hat white like the girls' hats. But with watercolor white is reserved paper not paint and there was no way I could lift enough paint to make his hat white again, certainly not white in comparison to the girls' hats.

So I pulled out the white body paint. Body paint or gouache is opaque watercolor. Dark colors are lightened with white. Transparent watercolor dilutes gouache and it won't cover it. Consequently, gauche must be added last. So I painted the shadow of the hat with transparent colors first and then I painted around the shadow with permanent white gouache. I had to apply it fairly thickly because opaque is one thing but covering is another. While I was at it I reclaimed a little white in Paula's left shoe too.

The gouache white is bluer that the page, so Stephen's hat is bluer than the girls. That's fine because he's farther away. If he had been close I might have had to paint the girls's hats too just to even things up.

I'm not tempted to work in gouache. I like the look a transparent watercolor too much. But every once in a while a little gouache is a life saver.


May 8th, 2009
This is my eldest daughter again, curled up in an armchair pondering her options. It is an isn't and portrait since I painted her as the young woman she will be in a few years and not as the pre-teen girl she is.

Georgia is hard to paint, because her features are perfectly regular. Her lips are unbelievably red, her eye lashes unbelievably dark, and her eye brows very dark for a blond. Painting her is a matter of toning her down enough to make her real.

I solved this problem by painting her almost entirely in earth tones. Ochre yellow, burnt siena, cobalt blue, and burn umber predominate. The sunlit side of her face was washed with cadmium yellow and red rose madder quinacrone. I used some alizarine crimson on the shadowed side of her face, but mostly yellow ochre and burnt sienna. Her shirt is burnt sienna and yellow ochre. I mixed these with raw umber for her browns and lashes. The background is layered washes of burnt sienna, cobalt blue, yellow ochre, and rose madder. Her hair is yellow ochre, cobalt blue and burnt sienna.

Excerpt from Art in the Making: jennyarmitage.com/blog
May 7th, 2009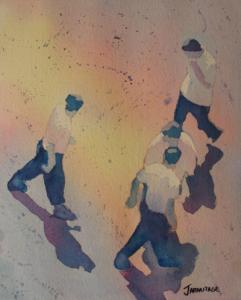 Under the West Salem bridge there is a little sand bar, really a gravel bar. At any given time on the weekend there are likely to be three or four families there and at least one father teaching his son to skip stones. It is an ideal place for skipping stones into the river. It's a good place for wadding toddlers too.

But looking down from the bridge a couple weeks ago I saw a very different scene. Five or six young men roamed the sandbar, jostling against one another and skipping stones from first one side than the other. There was no real violence, but the boys radiated suppressed anger and extreme restlessness.

This painting is a composite of figures from several of the photos I took of the restless young men. I arranged them to keep the feeling of tension I felt looking down at them from the bridge.

The painting is almost entirely poured. The first pour was hansa yellow light, quinacridone deep red rose, and phthalo blue. In the next pour I substituted new gamboge for the hansa yellow and added quincaridone magenta. The third pour I used just the two reds and phthalo blue. For the fourth pour I used quincaridone magenta, dioxzine purple, and phthalo blue.

After the fourth pour I washed the boy's jeans with phthalo blue and added dioxzine purple and phthalo blue wet into wet into the shadows on their shirts. The little dots are dioxzine purple splattered off the brush.

I think I captured the tension and the pours produced beautiful colors. I'm going to paint a larger more complex version of this painting tomorrow. I like the colors and will probably use them again.

Visit my Blog at http://jennyarmitage.com/blog.
May 7th, 2009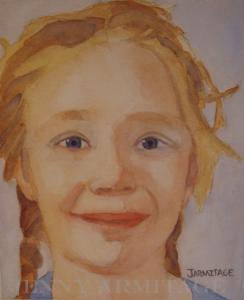 It seems a good omen to begin my painting blog with a portrait of a child–particularly since she is a child who wants to be an artist. She is beautiful and funny looking by turns. But I have no doubt she will be beautiful in the end. Her cheek bones say it all.

I did this painting Friday at Art in Valley (Corvallis, Oregon) a cooperative gallery of which I am a member. Painting while working at the gallery is fun but tricky. The comments of patrons are fun. Making sure I can stop at any moment without wrecking the painting is difficult. So is working as neat as the gallery environment requires.

But this young girl has such a distinctive expressive face that the painting just fell together. Another good omen for a beginning blog.

I find I use more pigments for skin than I ever would have believed possible. Her skin is cadmium yellow and madder red on the sunlit side and cadmium yellow and alizarin crimson on the shadowed side. Cobalt blue helps define her eye sockets. The edges of her shadowed cheeks have a hint of yellow ocher. There are hints of burnt sienna at the hairline. Her hair is yellow ocher, burnt sienna, and more cadmium yellow.

The blues and blue grays are mixed from the skin and hair palette. Mixing the background from the main palette often leads to good lively grays that set off the subject. I think it worked this time too.


http://jennyarmitage.com/blog


April 21st, 2009
Visit my Daily Painter's Blog at jennyarmitage.com/blog.